Meridian Holidays Express Bus

*NOTE: This company has ceased its operation in Singapore.
Introduction
Meridian Holidays Express Bus provides high deck bus between Singapore and KL. The bus departing from Lavendar Street, Hasry counter.
Meridian Holidays is constantly offering discounts and more trips for the customers. Do check out http://www.hasryexpress.com for the latest discounts and offerings!
Address: Lavender Street Junction Off Kallang Bahru Singapore 338750
Bus Pickup Point: Kallang Bahru
Tel No: +65 6294 9306
Website: N/A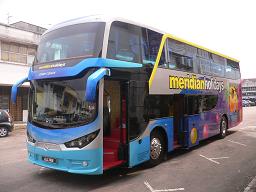 Bus Schedule
Please Note: For all the information below, changes to fares and time schedules are at the discretion of the bus/coach operators. The time schedule and fares provided by singaporemalaysiabus.com acts only as a guide. Please contact the bus operators for most updated information
| | | |
| --- | --- | --- |
| No. | Bus Routes | Time |
| 1. | SINGAPORE - KUALA LUMPUR | 8.30 AM, 7.30 PM |